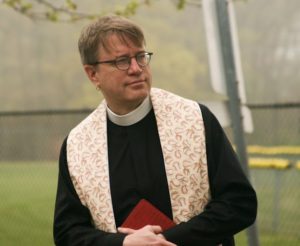 The Rev. J. Gary Brinn was raised Southern Baptist in a working-class family of cops and firefighters. Though he first felt a call to ordained ministry in childhood, he spent twenty-five years as a Jonah, traveling, trying a variety of jobs, learning about different faiths. Along the way he served in the Army, visited Nicaragua under the Sandinista's, lived in the Marianas, and backpacked across Europe. He had settled into a career in the technology industry, serving as Director of Learning for a company in lower Manhattan, when the attacks of 9/11 took place.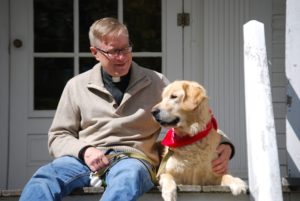 Gary returned to school, completing his undergraduate degree in Medieval to Renaissance British Literature and Studio Art before attending Harvard University's Divinity School. He completed his clinical training in the ER and secure psychiatric facility of a Boston-area hospital, and completed internships and fellowships at two congregations and on two college campuses before beginning his ordained ministry. He most recently served a progressive congregation on Long Island's South Shore.
Gary's sermons combine real life and ancient wisdom. You may hear references to Pearl Jam, a Disney movie, a dead German theologian and quantum physics on any given week. He is delighted to serve a community filled with plumbers, doctors, artists, scholars and shopkeepers, and looks forward to growing with this church as we follow that revolutionary rabbi from Galilee.