Beginning on Tuesday, February 23, we are forming a group to share in the study of the UCC curriculum, "White Privilege: Let's Talk—A Resource For Transformational Dialogue."  The group will meet every other Tuesday at 3:30pm, and study materials will be shared ahead of time with all who choose to participate. To receive the materials, please contact Pastor Lisa Durkee at pastor@bluehillcongregational.org.
To learn more about this UCC curriculum, please click here.
Zoom link to join the conversations: https://zoom.us/j/96325534474
Meeting ID: 963 2553 4474
Passcode: 559485
---
Dear Maine Conference,
What does it mean to dismantle racism in a pandemic? The events of this past week have shown us once again that the national epidemic of racism is still going strong after 400 years and is still endangering the lives of black and brown people.
Already, it is clear that COVID-19 is doing greater damage to black and brown communities in our country. Already, black people are subjected to a higher level of danger in their everyday lives than white people. And, then, we see the internationally publicized racist incidents in Minneapolis, Georgia, New York, Kentucky, and Florida. Events happen like these every day without the same international coverage. The resulting protests are justifiable and holy responses to centuries of oppression. Our hearts hurt, and we are angry. George Floyd, Ahmaud Arbery, and Breonna Taylor, among many, should be alive today. Your grief is real and should not be ignored. If you are lamenting their murders and the fear that black and brown Americans live with every day, we would like to offer up this powerful sermon of lament. We are grateful for the Rev. Dr. Otis Moss III and Trinity UCC for sharing this testimony with us.
Rev. Dr. Otis Moss III
The Cross and the Lynching Tree:
A Requiem for Ahmaud Arbery
If the link above does not work Click Here!
Even as we lament the lives that have been taken, that grief can become action rooted in love of God and love of neighbor. Here in Maine, it is common for some people, usually white, to say that "this place is not racist.". But, the same issues we see on the news are present here in Maine. It is part of our air and water, too. We are all called to do what we can, when we can, to follow the Gospel. God will help us stretch to do this next right thing. As we know, being Christian means loving our neighbors, being bold in the face of injustice, and speaking truth to power. It means examining our own sinfulness and repenting, turning back towards God. The discomfort we're feeling right now is a symptom of where we need to continue treating, where racism has taken root.

This is one more moment when we face the reality of white power and privilege. How can we commit to do the work to end it? Even as many of us are still staying at home to protect our neighbors in the midst of the Pandemic, here are some actions to either help you continue the work you've been doing, or begin this part of your Christian journey for the first time.
Our goal is not just to do one thing to help us feel better right now but begin, or continue, making the changes in ourselves and our institutions. As you know, this will be work that takes a while. Long-lasting change always does. In this moment, we are Called to act on our faith. To love our neighbor as ourselves, including being willing to be uncomfortable and face issues we would rather not face. For those who are new to this work, we must remember that our call is to do justice, love kindness and walk humbly with our God -especially when it means examining our privilege and letting go, so that others may be treated fairly.
WHAT CAN YOU DO?
First, even in your grief, do not succumb to powerlessness. As Rev. Linette George said in her sermon this past Sunday, you are leaders. People are looking to you, as Christians, for leadership. Building God's Kindom has always been done bit by bit. You are building with God right now. Then, try to do some of the following:
For the list of resources and suggested actions from the Maine UCC, please click here.
When we join together with our siblings in faith of all kinds and with like-minded people who share our yearning for love and justice – we will surely make a difference. Please join together to unmask, dismantle and eradicate racism. We can do it.

In Christ's peace,
Rev. Deborah J. Blood, Conference Minister

On behalf of the Anti-Racism Resource Team of the Maine Conference:
Rev. Linette George, co-chair
Rev. Christina Cataldo, co-chair
---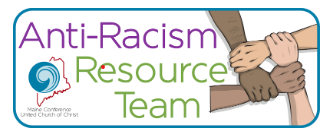 Anti-Racism Resources
While this is not an exhaustive list, here are some resources that are a helpful place to begin.
-compiled by Maine Conference UCC
Click here to access the Google Doc containing links and lists of blogs, books, films, curriculum resources, and more for those wishing to learn about racism and racial justice.
---
The following is an article written by Rebecca Ruiz for Mashable, about the differences between being "not racist" and being actively anti-racist:
6 ways to be antiracist, because being 'not racist' isn't enough
---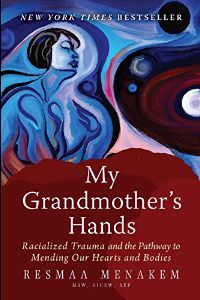 Join Us in a Community Reading of
My Grandmother's Hands, by Resmaa Menakem
The Readings on Race discussion group at the Blue Hill Library will be leading a Community Read this summer of Resmaa Menakem's book My Grandmother's Hands: Racialized trauma and the pathways to mending our hearts and bodies. We would like to form a smaller group within our church to read and discuss the book together, and then those who wish can participate in the larger facilitated community conversation.
Here's a description of the book from Bookshop.org: "In this groundbreaking book, therapist Resmaa Menakem examines the damage caused by racism in America from the perspective of trauma and body-centered psychology. The body is where our instincts reside and where we fight, flee, or freeze, and it endures the trauma inflicted by the ills that plague society. Menakem argues this destruction will continue until Americans learn to heal the generational anguish of white supremacy, which is deeply embedded in all our bodies. Our collective agony doesn't just affect African Americans. White Americans suffer their own secondary trauma as well. So do blue Americans–our police."
The book costs $15.75, but we hope that some folks would be willing and able to purchase a second copy of the book for someone in the community who can't afford one. If you are interested in participating in our church's reading group and/or the larger community read of My Grandmother's Hands, please email or call the Church Office (info@bluehillcongregational.org or 207-374-2891) to place your order. If you are purchasing multiple copies, please let us know if one (or more!) of the books in your order is a donation.
We hope to begin the church's reading group in early July – either in person or via Zoom. Stay tuned for more information, including time and location, for our first meeting. We look forward to some powerful discussions of this important book and hope you'll join us.
---
The First Congregational Church of Blue Hill stands in support of peaceful protests for racial justice and equality in our local communities, and across the country. On Thursday, June 4 and Tuesday, June 9, we held two Vigils for Justice with gatherings in silent mediation and solidarity, and the tolling of the church bell. The following photos are from the first of those gatherings.